Now that you successfully logged into MyDashboard, we will guide through your first steps into our Digital Services Platform.
MyDashboard has been designed to provide automated accurate invoices delivered on-time, as well as recurring services, and share sensitive information and documents seamlessly and securely with your coworkers and employees. This article aims to give you an overview and introduction of all the possibilities you can find on MyDashboard.
When you first log in, you will be directed to our homepage: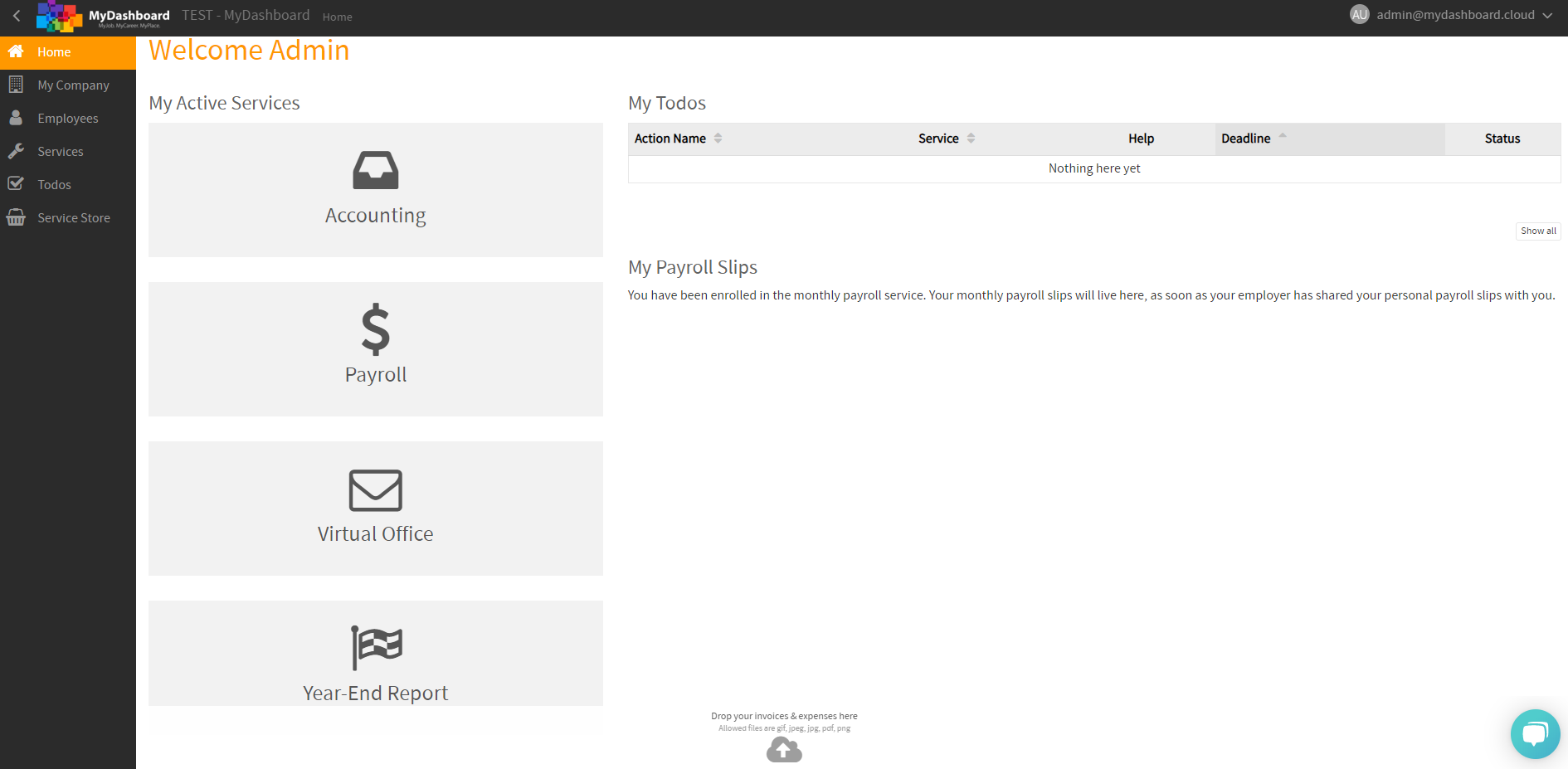 Depending on the services you have booked with us, there are different possibilities of what your homepage will look like.
Your Profile
On the right side up, you can see the menu bar with your email address, where you can update your profile information at any time. Keeping your profile updated will make sure that all the services you've booked will be done correctly.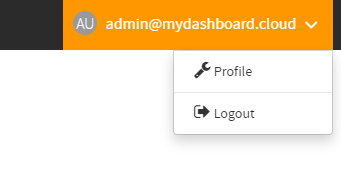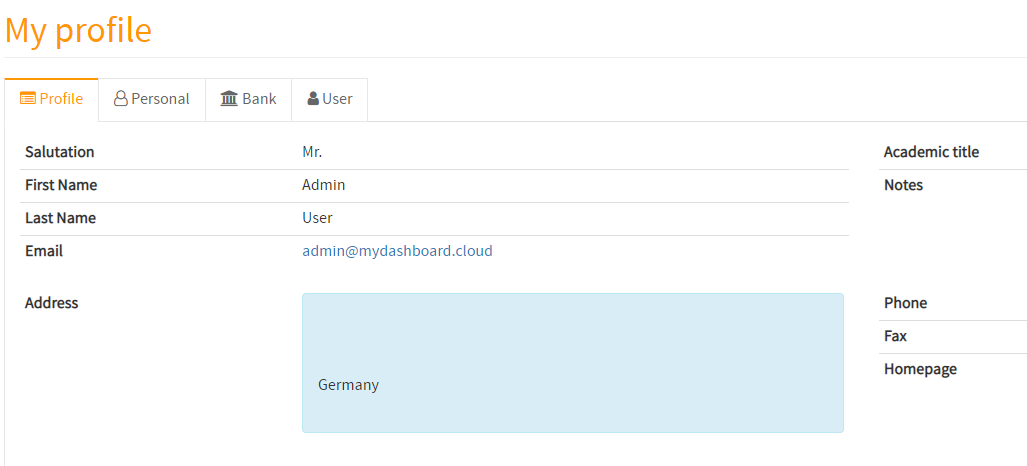 Menu bar
The left side menu bar shows you all the possibilities that MyDashboard has to offer: update and check at any time your company's information, add and edit employees and payrolls, access your reports 24/7, send and receive invoices, book other services and others.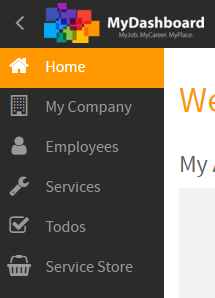 My Company
At My Company, you can update and see your information also relevant documents like incorporation deeds, articles of association, contracts, bank data, employees, shareholders data, current services booked, etc.

Employees
Under Employees you can see and add the list of your current employees, clicking on their names you can see and update their important data (personal information, tax numbers, bank account, insurance, and other documents).

Please note: If you are not the admin, but you have the role "employee", you will be able to see only your own payroll slip.
Services
On Services you can have access to all your booked services. Under each service, you will be updated on your to-dos, invoices, reports, and documents.

Todos
On the to-do's list, you will be notified of your activities pending, like approve and share the payroll slips with your employee(s).

Service Store
Here you can see the description of the services you already booked and also see what other opportunities are waiting for you. You can check our customer success stories and also ask for a quoting.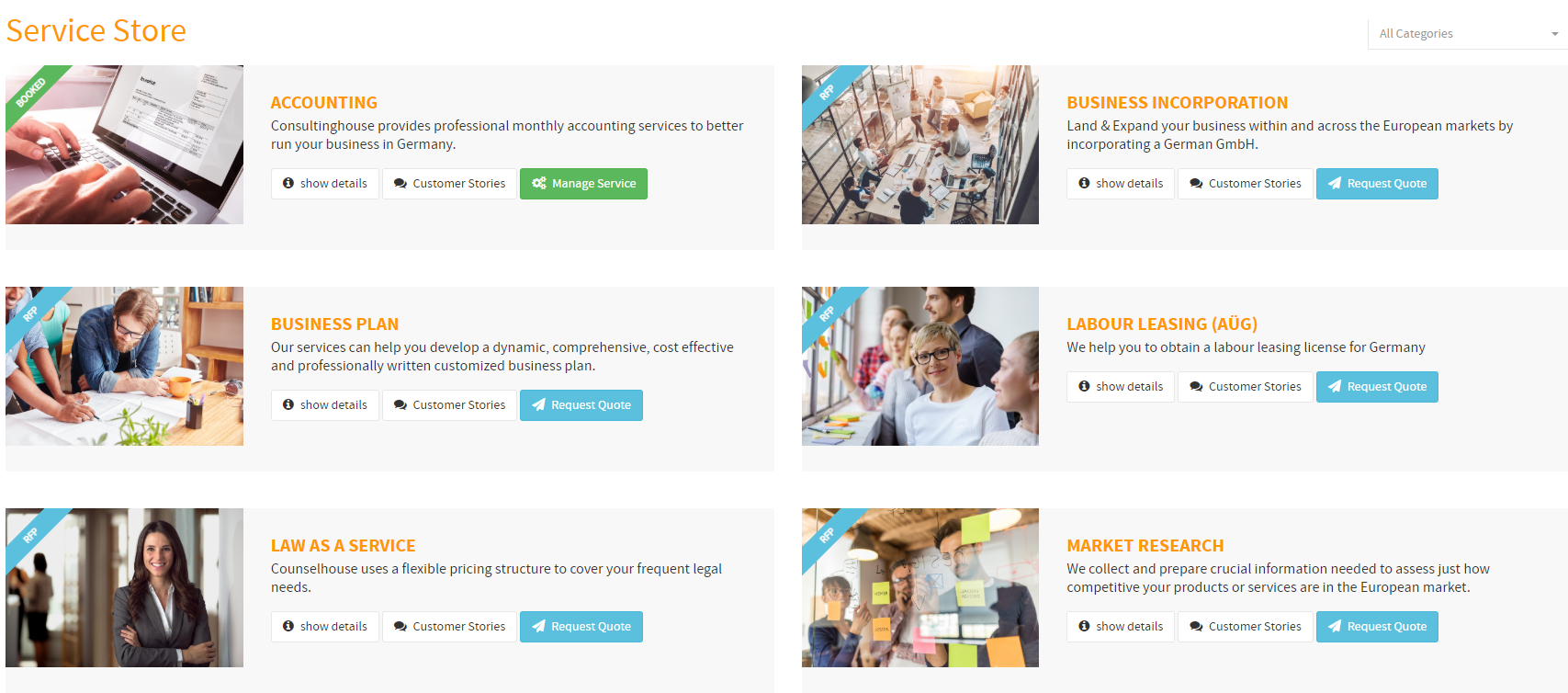 Contacting us
In case you have any doubts feel free to contact us at any time.
For problems or questions related to invoices, please contact billing@mydashboard.eu
For general questions to MyDashboard, please contact mydashboard@consultinghouse.eu
For other information, check our help center: https://service.consultinghouse.eu/knowledge
More information:
If you want more information on how to reset your password, please read this: https://service.consultinghouse.eu/knowledge/mydashboard-app/my-users/i-forgot-my-password-how-can-i-login-to
If you want more information on how to view your monthly accounting reports, please read this: https://service.consultinghouse.eu/knowledge/how-to-view-my-monthly-accounting-reports
Looking forward working with you! 😊
Your Consultinghouse - Team