My Dashboard: How to submit my monthly payroll updates
Please find an overview of how to submit your monthly payroll updates in the portal MyDashboard
Here a short overview of what you can expect today!
First step:
Log into MyDashboard.
Click on your Payroll service under the category 'Payroll updates', there you can find the overview of your employees.
You can view all payroll updates and are also able to submit new updates.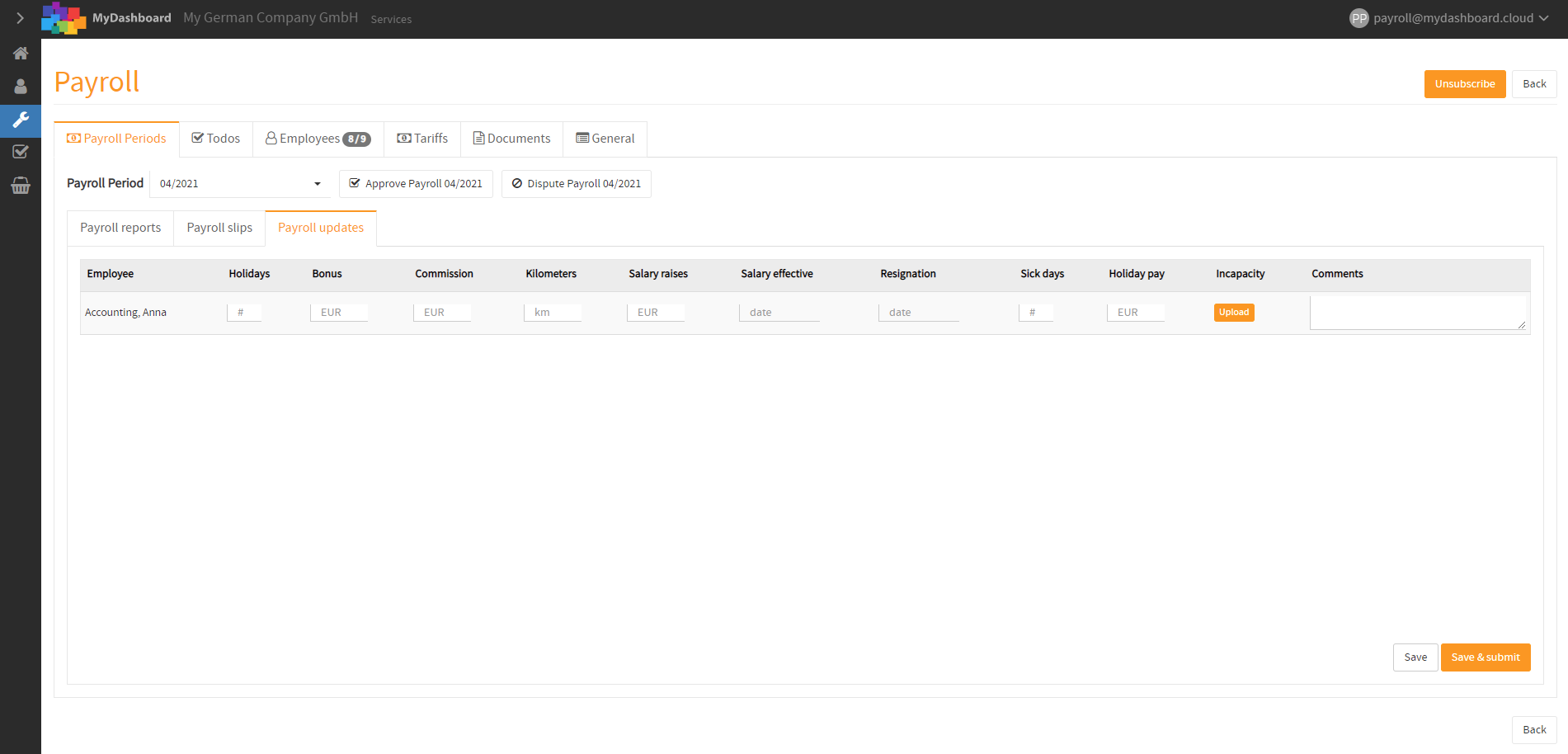 Second step:
If you have any updates for your employee, then you can easily insert the information in the blank spaces.
You can also attach a document in the category 'Incapacity' or also write a comment in the comment section.

Third
and final step:
If you have inserted all information, please make sure everything is correct and then click on the orange button on the right side named 'save & submit'.

Of course, it is also possible to save the updates by clicking 'save'. Then you can insert the other information later!
Once you have submitted your information, this will directly go to your Payroll manager and they will take note of this. Thank you!
Contacting us
In case you have any doubts feel free to contact us at any time.
For problems or questions related to invoices, please contact billing@mydashboard.eu
For general questions to MyDashboard, please contact mydashboard@consultinghouse.eu
For other information, check our help center: https://service.consultinghouse.eu/knowledge
More information:
If you want more information on how to reset your password, please read this: https://service.consultinghouse.eu/knowledge/mydashboard-app/my-users/i-forgot-my-password-how-can-i-login-to
If you want more information on how to view your monthly accounting reports, please read this: https://service.consultinghouse.eu/knowledge/how-to-view-my-monthly-accounting-reports